Karen Carmichael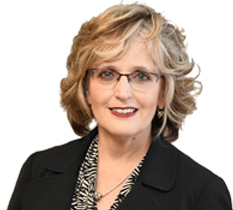 Karen Carmichael brings an extensive background in business and law to her estate planning practice.  An attorney since 1985, Karen earned her law degree from the University of Tulsa, and did her undergraduate and master's degree work at Oklahoma State University.  She is a member of both the Oklahoma and Texas Bar Associations, and has been a presenter for the Oklahoma Bar Association at their seminar on Asset Protection, and has taught continuing education courses on, Probate, Wills and Trusts, Family Limited Partnerships and Elder Care.  Karen serves on the Board of Directors of the Tulsa Estate Planning Forum, and is currently the President – Elect.
Before focusing her practice solely on estate planning in 1997, Karen was a professional liability attorney for the federal government, was a commercial real estate attorney, and earlier was on staff with U.S. Senator Don Nickels.  Practicing law during Oklahoma's recession in the mid-1980's, Karen saw the need for estate planning strategies for people salaried or nearing retirement, independent or small business proprietors, or involved in family farming or ranching operations.
Karen was the President of the Tulsa Estate Planning Forum 2014 -15, and received her AEP designation 2018 (Accredited Estate Planner) by the National Association of Estate Planning Councils (NAEPC).
Karen is currently involved with many charitable organizations, including serving on the Board of Directors for Blessings International, Medicines for Missions.  She also helped begin the Kaliningrad Project, which helps children in orphanages in Kaliningrad, Russia.
Contact Information
kcarmichael@barrowgrimm.com
p: 918-584-1600
f: 918-585-2444

vCard
Practice Areas
Estate Planning
Guardianships
Probate & Trust Administration