Christopher A. Barrow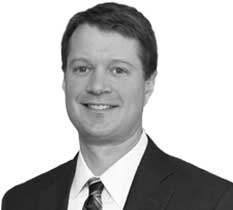 Mr. Barrow's areas of concentration are in commercial litigation, business law and estate planning. Since joining the firm, he has been involved in virtually all aspects of civil litigation, representing individuals and businesses in state and federal court, as well as a number of significant arbitration proceedings. He has gained trial experience in a broad array of matters, from the successful defense of the State of Oklahoma in an action involving a highway construction contract to the successful defense of a successor trustee in trial of intra-family dispute involving a family trust. Mr. Barrow also advises business clients in a variety of corporate law matters and commercial transactions. In addition to his general litigation and business law practice, Mr. Barrow is an experienced estate planning lawyer who offers guidance and sophisticated legal strategies designed to meet the personal estate planning needs and goals of each client.
His extensive experience and achievements have earned him the "Rising Star" designation by Super Lawyers Magazine continuously since 2008.
Mr. Barrow received his Juris Doctorate from Emory University in 2001 where he held leadership positions in the Emory Moot Court Society and was a member of multiple moot court and trial teams. He is a member of the Order of the Advocates and also received the Commendation Award for excellent achievement in the study of wills, trusts and estates. He received his Bachelor of Science degree in Business from Indiana University-Bloomington in 1998.
Mr. Barrow's professional memberships include the Oklahoma Bar Association and the State Bar of Texas. He is admitted to practice before the United States District Courts for the Northern, Eastern and Western Districts of Oklahoma, the Northern, Eastern, Southern and Western Districts of Texas, and the Tenth Circuit Court of Appeals. His published cases include:
• Glover Constr. Co. v. State ex rel. Dept. of Transp., 2014 OK CIV APP 51, 326 P.3d 547 (2014);
• Beachner Constr. Co. v. State ex rel. Office of State Fin., 2014 OK CIV APP 3, 316 P.3d 229 (2013)
Contact Information
cbarrow@barrowgrimm.com
p: 918-584-1600
f: 918-585-2444

vCard
Practice Areas
Business Litigation
Estate Planning
Construction Litigation / Surety Law
Alternative Dispute Resolution
Energy/Oil & Gas Law
Education
Emory University School of Law (J.D., 2001)
Indiana University, Kelly School of Business (B.S., 1998)

Bar Admissions
Texas (2001)
Oklahoma (2004)